Erfindungsmeldung
Sicheres Hochladen einer Erfindungsmeldung, exklusiv für Wissenschaftler
Newsletter
Hier können Sie unseren Newsletter abonnieren.
Direktkontakt
Diese E-Mail-Adresse ist vor Spambots geschützt! Zur Anzeige muss JavaScript eingeschaltet sein!
Optical method for the characterization of metallic nanoparticles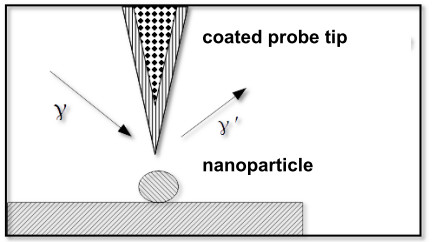 Kurzbeschreibung:
This invention for the examination of metallic nanoparticles in a sample exploits the plasmonic properties of metals. A metal tip with a Raman-active coating is used as a sensor to converge on the particle to be examined. The tip and particle form a resonator structure in the case of a metallic nanoparticle. This resonator structure causes the Raman signal belonging to the sensor coating to be amplified and thus enables the metallic particle to be identified under normal conditions.
Kontakt:
TransMIT GmbH
Kerkrader Str. 3
35394 Gießen
Telefon: +49 (6 41) 9 43 64 - 0
E-Mail: patente@transmit.de